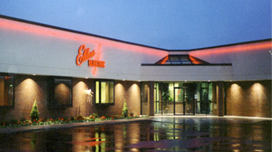 Elders Electric has served the West Michigan area for over 80 years with a quality of service that has built a reputation that our competition envies. If you need electrical service or contracting, give us a call and let us know how we can serve you.
Commercial:
•Fulfilling the electrical needs of our retail customers varying in size from small retail mall stores to large restaurants, pharmacies, and grocery stores.
Industrial:
•Manufacturing facilities including printing plants, packaging companies, concrete and metal fabricators.
Homes:
•Whether you call a "home" a 600 square apartment in a student housing complex, a 1600 square foot condominium, or a custom built 6600 square foot home of your dreams, Elders Electric provides quality work that you'll take pride in.
Service:
•From a non-functioning outlet that's "holding up" the production of your morning coffee to a foreign made printing press, folder, heat sink tunnel, or other piece of equipment that's gone down and is "holding up" your production line, Elders Electric's technicians can correct the problem. 24 hour service is available.